Can't decide between the power of a laptop and the portability of a tablet? Get the best of both worlds with these 2-in-l hybrids, starting from just £145
ACER

Aspire Switch 11V

HUAWEI 

MateBook

ACER

Switch Alpha 12
LENOVO Ideapad Miix 700
LENOVO ThinkPad XI tablet
MICROSOFT Surface Pro 4
APPLE iPad Pro 9.7in
APPLE iPad Pro 12.9in
SAMSUNG Galaxy TabPro S

HP

Elite x2 1012
VENTURER BravoWin 10K
H

P

Spectre x2
ALTHOUGH TOUCHSCREEN TABLET devices remain popular, it's decreasingly traditional slates that are getting the attention. From late 2015, 2-in-1 hybrids have become the favored products of both users and manufacturers.
It's easy to see why, even with the generally higher starting prices of 2-in-1s. Quality phablets such as the Galaxy S7 Edge, iPhone Plus and OnePlus 3 have muscled in on the conventional tablets' domain of comfortable browsing and media viewing, and even 'smaller' smartphones have generally been increasing in size, closing the gap even more 2-in-1s, meanwhile have become thin and light enough to act as leisure tablets while being equipped with the laptop-grade processors, generous display sizes and, of course, attachable keyboards needed to enable them as everyday working aids.
With that kind of flexibility on offer, it's no wonder that the tech world has gone crazy for 2-in-ls. Once ruled by Microsoft and its Surface range, 2016 has seen everyone from Acer to Samsung bring out their own premium (and not-so-premium) hybrid contenders. If you're thinking about ditching your old laptop for one of these versatile little devices, read on for our buyers' guide – we've tested 12 of them.
RAISE YOUR GLASS
You'll spend 100% of your time with a 2-in-1 looking at (and likely poking at) the touchscreen, so you'd better make sure it's up to the job. Sizes usually range from about 10in diagonally – the same as a large, traditional slate – up to around 13in. This makes them smaller than most laptops, a trade-off for their superior portability, but-many of the same rules apply: if you're going to be doing regular work with it, then the more real estate the better. For those who will mainly want to browse the web, watch videos and the like with only occasional typing, you can get away with a smaller display.
Happily, resolutions of 2,160×1,660 or higher are commonplace, but the smaller sizes mean that even 1,920X1,080 will most likely look nice and sharp, so don't worry too much about this unless you're an artist or designer. Most 2-in-1s are generally quite good at displaying colors too, frequently covering close to or even exactly 100% of the sRGB color gamut. Try not to settle for less than 80% if your budget allows it
BALANCE OF POWER
With some exceptions at the lower end of the market, a defining trait of 2-in-1s is their laptop-grade internal hardware. Besides a healthy 6GB or 8GB of RAM, which allows for productive multitasking, expect a mix of Intel Core M and Core I processors; the former are usually slower but more power-efficient, allowing for silent running and longer battery life, while the latter are more powerful but must be fan-cooled, increasing bulk and noise (except in the case of the Acer Switch Alpha 12, which has a unique water-cooling system).
The main outlier is Apple's iPad Pro series. These devices come with the Apple A9X chip, which is essentially a souped-up version of the iPhone 6s family's A9 system-on-a-chip. That doesn't sound too encouraging for a potential laptop replacement, but fret not: like Intel's Core M processors, the A9X punches above its weight in everyday use.
PORTS AND PRAYERS
One of the biggest advantages of a decent 2-in-1 device over a common-or-garden tablet is the potential for enhanced connectivity. Often this will come in the form of a full-size USB port – ideal for adding a mouse or removable storage – but some hybrids will forgo this in pursuit of a thinner body.
These will generally opt for at least one USB Type-C port instead, which can make up for a lack of backwards-compatibility with faster transfer speeds and, with suitable adaptors, built-in video output.
Naturally you'll get Wi-Fi (all the devices tested here are compatible with the speedy 802.11ac standard) and Bluetooth connectivity, but be wary of missing microSD card slots; admittedly these aren't always a necessity, but photographers in particular will find one useful.
THE BEST 2-IN-1s FOR...
WRITING
MICROSOFT

Surface Pro 4

It's strange that Microsoft doesn't include the Surface Pro 4's Type Cover keyboard as standard, as it's essential for allowing the tablet to reach its full potential as a work device. The chiclet-style keys work wonderfully for extended typing sessions, with relatively deep travel and a satisfying action, while the ultra-responsive Precision Touchpad is almost enough to make you forget about the touchscreen. Shell out on the Surface Pen as well, and you've got a perfect tool for making notes and annotations on your writings, or marking up someone CISC's.
DESIGNING
APPLE

iPad Pro 12.9in

It's hard not to fall for the more portable 9.7in model, but for serious drawing, sketching, graphic design and other visual artistry, the bigger iPad Pro is hard to beat The 12.9in of screen space gives you a sizable canvas to play with, and its sRGB colour gamut coverage of 98.2% and 1,552:1 contrast ratio ensure beautifully vibrant hues and deep, rich blacks. Of course, taking advantage of all this does require that you spend £99 on the Apple Pencil, but then it's easily one of the better 2-in-1 styli on the market in terms of precision and comfort.
SAVING
ACER

Switch Alpha 12

The lack of a truly great 'budget' 2-in-1 means it's the £600 Switch Alpha 12 that provides the best value. Despite costing the same as the HP Spectre x2, it weighs less, has a better range of USB ports and is considerably more powerful, thanks to a full-fat Intel Core i3-6100U chip. In fact, as the results of our 6K benchmarks show, It s even brawnier than the Lenovo ThinkPad X1, Samsung Galaxy TabPro S and Huawei MateBook, ft all of which cost over £200 more. You get a silent water-cooling system too, for even more value.
PERIPHERAL OR NOTHING
A hybrid isn't a hybrid without a keyboard attachment, so we recommend picking one up even if it isn't included in the box Annoyingly, not all of them come as part of the package, and the proprietary nature of docking systems means you'll likely have to pay over £100 for a compatible type cover.
The good news is that detachable keyboard design has improved massively in the past year or so; despite their thinness, some can feel as sturdy and comfortable as the keyboard of a clamshell laptop. This isn't a given, though, so we've mentioned if a 2-in-1's keyboard has any problems with comfort or build quality.
Another accessory to consider is the stylus. These are bundled even less frequently than keyboards, but can come in very handy for drawing or even just making handwritten notes. Sadly, the majority of pens we've tested are merely functional – the Surface Pro 6's Surface Pen and the iPad Pro's Apple Pencil are the only two that stand out for precision.
JUICE BOX
As 2-in-1s are usually designed to be laptop replacements, we like them to be able to last a full eight-hour working day on battery power; you never know when you'll be caught away from the mains. This is especially important as the tablet section isn't meant to be shackled to a power socket at all.
We've subjected the devices in this test to our usual battery benchmark, which involves playing a video clip on permanent loop. This means that more modest usage could allow a 2-ln-1 to last for a little longer than the stated result, but you'll find that devices that can reach the magic eight-hour mark are the exception rather than the rule.
That's a shame, but it doesn't mean you can't enjoy a good few hours of complete wirelessness; most will manage six hours at least, with only a couple of sub-five-hour results at the entry level. Conversely, more expensive options, such as the 9.7m and 12.9in iPad Pros, Lenovo ThinkPad X1 Tablet and Microsoft Surface Pro 6, can achieve around the eight- or nine-hour mark.
ACER

Aspire Switch 11V

Rating 3/5
So close to being a Surface 3 beater, but the Switch 11V's battery life is lamentable
WE USED TO be fond of comparing the Aspire Switch V to Microsoft's Surface 3, the firmly consumer-focused cousin of the Surface Pro 3, as the two hybrids were pretty evenly matched on price. Now, you can pick up the Acer for even less, which is impressive considering it beats the Surface 3 on most specs.
Acer has nailed the design: plastic construction keeps costs down, but its crosshatched, faux-brushed aluminium finish genuinely looks and feels great. It's reassuringly solid and weighs 1.46kg with the keyboard dock, which isn't particularly light, but still easy to carry around.
Inside said keyboard dock is a 500GB hard disk, complementing the tablet portion's 128GB SSD. It also adds a much-needed USB3 port and is attached securely with magnetic prongs. It's not perfect, though: the hinge mechanism is too stiff to open with one hand, and there's no quick-release button for undocking, so we practically had to tear the two components apart.
You get a microSD card reader, a Micro HDMI port and a Micro USB connector on the left edge of the tablet. The separate charging port means the Micro USB connector is always free even when the device is charging.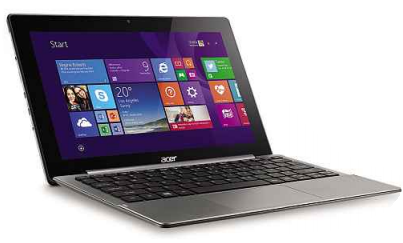 The T1.6in, Full HD screen is sharp and very bright; we clocked it at Tmcd/nt at peak brightness. We'd have liked its measured sRGB colour gamut coverage to be higher, and its black levels of 0-34cd/m' a little lower, but at least contrast is high at 1,000:1.
Navigating around Windows and the web is fluid and easy thanks to the combination of a sensitive touchpad, a responsive keyboard and the accurate touchscreen. We had very occasional problems with the touchscreen, where a scroll command would be interpreted as a zoom command, but this happened rarely enough for it to not be a major issue The Acer Aspire Switch 11 V uses one of Intel's dual-core 800MHz Core m-5Y10c chips. In theory, this is a low-power chip that doesn't require a fan, but we found that the tablet portion could get uncomfortably hot.
This was likely a factor in its abysmal battery life just 4h 30m in our video test. That's disappointing by Core M standards, as these chips normally produce much longer lifespans.
At least performance is good. Wndows feels snappy and media-heavy web pages load surprisingly quickly. We don't run our full 4K benchmarks on Core M machines, so we ran our easier 1080p tests instead (for reference, an Intel Core i3-4030U scores 100). The Aspire Switch 11V managed an overall score of 93, including an outstanding score of 138 on the short burst-focused image-rendering test
Still, we can't help but feel slightly let down by the Acer Aspire Switch 11 V. On the face of it, it's a fantastic-value 2-in-1 with oodles of storage, a great keyboard dock and decent performance. However, having less than five hours of battery life is unacceptable, as are the roasting temperatures on the rear of the tablet It's frustratingly dose to greatness, but it just falls short.
ACER

Switch Alpha 12

Rating 4/5
A silent performer, the Switch Alpha 12 is a surprisingly speedy and well-made hybrid
THE SWITCH ALPHA TCs standout feature is undoubtedly its LjquidLoop cooling system. Ditching conventional fans, it uses the evaporation and condensation of liquid to dissipate the CPU's heat, resulting in pleasantly silent running.
That's a pretty luxurious inclusion for a £600 device, which also includes an Intel Core i3-6100U processor, 4GB of RAM, Intel HD Graphics 520 and a 128GB SSD; pay more and you can choose a Core i5 or i7 chip, as well as 8GB of RAM and a 2S6GB SSD. All models include a keyboard and stylus, too.
Sadly, the keyboard is far from the best.
It bounces a lot while typing, and the textured finish surrounding the keys isn't particularly comfortable The chiclet-style keys are relatively tactile in use, though.
We also had some issues with the touchpad on our review unit While it's perfectly usable and responsive, the glossy touchpad didn't really sit comfortably in the housing and frequently – and loudly – rattled about when typing and clicking.
As for portability, it weighs 125kg with the keyboard, and is extremely slimline, measuring just 9.5mm thick. It just about squeezes in a standard-sized USB3 port and a USB Type-C port, plus a microSD slot and a 3.5mm headphone jack.
The 12in, 2,160×1,440 IPS display is impressive, with a peak brightness of 400ed/m! on the dot and sRGB colour gamut coverage of 82.6%. The latter is fine for everyone save for professional designers or artists, and is miles better than the pricier HP Elite x2's screen.
The Switch Alpha 12 is also in line with the Elite x2 in performance, scoring 35 overall in our 4K benchmark test. Gaming performance is also relatively respectable: Dirt Showdown runs at 43fps at 1,920×1,080 and Low quality settings, while Minecraft maintained a solid 30fps at default render distance with otherwise maximum settings.
With a score of 5h 13m in our continuous video playback test, the Acer Switch Alpha 12's 4,870mAh battery isn't going to last for a full working day, but is enough for extended bouts of time away from a wall socket. The battery doesn't even come close to the Surface Pro 4's seven hours, and is even trumped by the 6h 14m of the HP Elite x2. The Switch Alpha 12's score is by no means a bad one, but it might be best to switch on Battery Saver mode and use it a bit more conservatively when out and about.
Generally, the Switch Alpha 12 really proves its worth. With a superbly crafted design and a surprising amount of oomph under the hood, you get a whole lot for your money, even if the display and keyboard aren't quite up to the best we've seen. The £600 option is a great buy, but if you need more power, consider the Core i5 and i7 variants, which cost about the same as an entry-level Surface Pro 4 – just remember that you're trading battery life for that extra processing grunt.
APPLE

iPad Pro 9.7in

Rating 4/5
Tills shrunk-down iPad Pro is Apple's best-ever tablet, but doesn't come cheap
TO PROVIDE AN even more travel-friendly alternative to the 12.9in iPad Pro, Apple looked to the iPad Air 2, effectively revamping it into the 9.7in iPad Pro.
Thus it has the same dimensions and screen resolution – 2,048×1,536, with a crisp 264ppi – but Apple has made some improvements. Tapping on the back doesn't produce ripples as it would on the iPad Air 2, for instance, and the screen has a new low-reflective surface.
It's also highly color-accurate, covering 974% of the sRGB color gamut. The display can also reach a high maximum brightness of 495ed/m2, and its contrast ratio of 1,122.1 provides lots of fine detail. Apple has also added an ambient light sensor for its new True Tone mode, which adjusts color temperature according to ambient light, so you'll always see the most natural-looking colors.
Apple Pencil compatibility has been added, too. Costing £99, it's still an optional extra like the £149 Smart Keyboard, but both work well enough to justify the expense. The keyboard's keys provide plenty of both haptic and audible feedback, and while the smaller tablet size means it's more compact, it's still fairly comfortable to use. On the Pencil side, the 9.7in screen is actually better suited to handwritten notes than the 12.9in original, though it's not quite as handy for drawing on.
There's still no trackpad, however, so you'll need to prod the screen or (unintuitively) use the arrow keys to move the cursor.
By the time you read this, all iPad Pros should be running iOS 10. We've always thought a true desktop OS would be a better fit for a 2-in-1, but iOS 10 does at least make better use of the extra screen space compared to smartphones. Split View, which previously only allowed you to run two apps onscreen at once, is now available for Safari tabs, while Mail and Notes get new three-pane interfaces that should make them easier to navigate.
As with the larger model, the 9.7in iPad Pro has Apple's dual-core A9X processor. This makes it one of the quickest handheld devices around – it scored a huge 5A17 in the Peacekeeper browser test, 5,221 in Geekbench 3's multicore test and 3,170 in the GFXBench offscreen Manhattan 3.0 test. The larger iPad Pro has 4GB of RAM to the 9.7in model's 2GB, though, so it's a bit better for multitasking or working with larger files.
Powered by a 7,306mAh battery, the 9.7in iPad Pro lasted 8h 56m in our battery test. While that's not amazing compared to many Android tablets, next to the Windows 10 devices that dominate this group test, it's actually very good.
Considering the mobile-focused OS and hefty pricing (the basic model costs £549, but includes a paltry 32GB of storage – getting 256GB plus the two accessories can breach £1,000), we're hesitant to give this iPad Pro a full five stars. That said, for those who can live and work without Windows, there's no denying it's a supremely portable, greatlooking and speedy tablet.
 APPLE iPad Pro 12.9in
Rating 4/5
The iPad Pro is powerful, flexible and has an amazing screen, but K won't suit everyone
WHILE WE LOVE the smaller 9.7in iPad Pro's portability, there's a lot to be said for the original 12.9in model, especially if you want a 2-in-1 for serious productivity purposes.
Indeed, the 12.9in iPad Pro's 2,732×2,048 display offers much more room for single applications, or two applications running side by side. Image quality is also top-notch; we measured an excellent 98.2% sRGB colour gamut coverage, and above-average brightness average of 393cd/mJ. A contrast ratio of 1,552:1 is fantastic, and a black point of 0.25cd/m2 is one of the lowest we've seen from a non-OLED display.
Although iOS isn't the best operating system for getting serious work done, it is improving with time. Two recent updates, iOS 9.2 and 9.3, respectively added the excellent MailDrop feature (which allows you to quickly share files straight from ¡Cloud Drive to Photos) and password-protected Notes.
The iPad Pro's A9X processor means it wipes the floor with competitors in the Peacekeeper browser test, scoring a huge 5A76. It powered through the GFXBench Manhattan onscreen test at 33.5fps, and an offscreen score of 80fps is seriously quick. The dual-core iPad even scored 5/»84 in Geekbench 3's multicore test.
The downside of this power, and of the display, is that the iPad Pro toed only 9h 8m in our video playback test while running at a screen brightness of 170cd/m2 – that's 12 minutes more than the 9.7in iPad Pro. It does have a neat power-saving trick of dropping the screen refresh rate from 60Hz to 30Hz when only images are onscreen; this should help you get a full day's work out of it Speaking of work, a physical keyboard is still a must for productivity. Apple has built its own for the iPad Pro, named the Smart Keyboard, which is sadly sold separately for £169. The keys look spongy, but each one has a surprising amount of travel and feedback. We were soon typing at speed without making many errors.
Unfortunately, Apple has stuck with the US keyboard layout, which will disappoint users in the UK, and there's no trackpad whatsoever, so you'll still need to poke at the screen to make selections.
Another possible add-on is the £99 Apple Pencil. It's expensive and not quite as comfortable to hold as Microsoft's Surface Pen, but its additional integrated sensor makes it the more accurate and pleasurable stylus to draw with. It even has some neat effects: you can use the Pencil on its side to shade your sketches, for instance.
The 12.9in iPad Pro is a staggeringly quick tablet, with a superb high-resolution screen, great speakers and a flexible range of accessories. Windows' superior range of supported software means a traditional laptop would probably be better for most working tasks, and the 9.7in model does feel a bit more comfortable with media consumption, but if you're a digital artist who needs a larger canvas, the 12.9in iPad Pro could be for you.
HP Elite x2 1012
Rating 4/5
The Elite x2 is a great 2-in-1 with business-friendly features, but its display lets it down
A MORE ENTERPRISE-LEANING cousin of the Spectre x2, HP's latest Elite x2 is one elegant piece of kit. Made from aluminium with a lovely matt finish, the Elite x2 includes such upgrades as an integrated fingerprint scanner on the rear and a fully adjustable kickstand, which feels sturdy once set up, if a little fiddly to prise outwards to begin with.
There's also a small but diverse selection of ports: one USB3, one USB Type-C, one microSD, one Micro SIM (for mobile data) and a headphone jack. The USB Type-C port can output video, too.
Unfortunately, while it looks the part of a business 2-in-1, its display leaves much to be desired. Its 1,920×1,280 resolution isn't a patch on the Surface Pro 4's 2,736×1,824, and its 76.6% sRGB colour gamut coverage is very lacklustre for the price Contrast ratio and peak brightness were better, at 908:1 and 351cd/m2 respectively, but it's still not good for colour-sensitive work.
The keyboard attachment is much better. There's not a huge amount of travel to each key, but they're well spaced and comfortable, with subtle backlighting. The touchpad, which is slightly larger than that of the Spectre x2, provides more space for multitouch gestures, and its slick coating ensured that our fingers glided over it without issue We did find, however, that typing on an uneven surface (such as your lap) can be tricky due to the lack of grip afforded by the thin kickstand.
HP's Active Pen stylus Is also included. This is fine for quick note-taking, but we suspect serious artists and designers will find its accuracy and sensitivity lacking.
The Elite x2 is available In a variety of different specifications. The range starts with an Intel Core m3-6Y30 processor with 4GB of RAM, and scales up to a Core m7-6Y75 with 8GB of RAM, which is the model we tested. Our 4K benchmark test produced an overall score of 34, which is about what we'd expect from the hardware – but then again, cheaper devices such as the Acer Switch Alpha 12 and Lenovo Ideapad Miix 700 can match or even surpass that. Word processing and web browsing are great, but tougher tasks such as video and photo editing might get sluggish.
We hoped the fanless, low voltage Intel Core M processor would mean greater longevity, but the Elite x2 lasted 6h 14m in our video playback test, which is nothing special. Even the Core ¡5-powered Surface Pro 4 we tested lasted over an hour longer.
The Elite x2 certainly makes an admirable attempt at collaring the productivity 2-in-1 market – we haven't even mentioned its added security features, such as a selfencrypting SSD and HP's brilliantly robust Client Security application – but it's ever so slightly off target, despite other strong suits such as its build quality and sturdy keyboard.
IT administrators will love the HP Elite x2, but everyone else will probably get more out of the Surface Pro 4's stellar display and superior battery life – and if you don't need a business device anyway, then there's no need to spend this much to get a 2-in-1 that's just as fast and well made.
HP Spectre x2
Rating 4/5
A well-judged 2-in-1, but there are a fair few compromises in the push for a cheaper price
IN ORDER TO create this cheaper alternative to Microsoft's Surface series, HP has had to make a number of compromises. The kickstand, for example, is inelegant and fiddly to flip out, while the only ports are two USB Type-C connectors. Thankfully, HP supplies a USB-C-to-USB-A adaptor in the box, but you'll need to buy a dock to hook up to an external display.
Nonetheless, the Spectre x2 does come with its keyboard in the box, unlike the Surface Pro 4. It has a sensible layout and its backlit buttons provide a decent amount of tactile feedback. We wish the touchpad was slightly larger, though – It's plenty wide enough, but its rather squat height makes it slightly awkward to use when executing large, two-finger scrolling motions. Otherwise, the touchpad has a good physical click.
The keyboard dock clips to the tablet using magnets and feels secure, but don't be tempted to pick up the Spectre x2 by the keyboard; the weight of the tablet is enough to release the magnets and send it tumbling.
The included stylus means taking notes in Microsoft OneNote is possible, although not always easy. The stylus doesn't feel as precise as Microsoft's Surface Pen and there are some definite problems with palm rejection; you can't always trust the touchscreen will ignore your hand resting on the screen when drawing and writing. There's no onboard dock for the stylus, either.
As for the 12in, 1,920×1,080 IPS screen, it's very bright, topping out at nearly 300cd/m2, and its decent contrast ratio of 963:1 provides plenty of detail when looking at photos. However, with just 72% of sRGB gamut coverage, its bright images aren't matched with particularly vibrant cotours. It's no worse than a mid-range laptop, but we would have expected more from a machine at this price.
The Spectre x2 comes with 4GB of RAM and a dual-core Intel Core m3-6Y30 processor running at 0.9GHz. It coped well with our 4K benchmarks, managing an overall score of 23. While a score of six in the multitasking portion isn't great, its score of 54 in the photo-editing test points towards fast single-core speed, and its video-editing result of 32 points toward decent multicore activities as well.
Battery life Is a little disappointing, as the Spectre x2 docked in at just 6h 7m in our video test at 170cd/mJ screen brightness.
The HP Spectre x2 is a good all-round 2-in-1. At £600, it's still slightly expensive compared to the average laptop, but when compared to the equivalent Surface Pro 4 -or, indeed, the iPad Pro and Samsung Galaxy TabPro S – it's pretty good value, particularly when the Spectre x2 comes with a keyboard in the box. There are flaws that you'll need to work around, such as its lack of built-in connectivity options, but as a device for work and for media consumption, it's more than capable, and is a great budget alternative to the Surface Pro 4.
HUAWEI MateBook
Rating 3/5
A gorgeous Windows 10 tablet, hampered by poor battery life and a fussy keyboard
HUAWEI IS NO stranger to making beautiful, metal-clad smartphones, and now with the MateBook the firm has tried its hand at the premium Windows 2-in-1 as well.
Annoyingly, the specification Huawei sent us to review isn't currently available in the UK; the model we tested included an Intel Core m5-6Y54 processor with 4GB of RAM, whereas the nearest UK retail spec features a Core m-5Y70 with 8GB of RAM for a cool £1,000. The two CPUs are both 1.1GHz dual-cores, but bear that difference in mind.
On the bright side, that £1,000 includes a TouchCover keyboard, and ft's clear that few corners have been cut design-wise Measuring just 6.9mm thick and weighing a meagre 640g without the keyboard, this anodised gold-tinted metal slate is absolutely gorgeous in the flesh. That said, this slimness does come at the cost of connectivity, as there's only one USB Type-C port to share input, output and charging duties. A multiport adaptor will be essential if you intend to use it for work.
Our Core m5-6Y54-powered unit scored 26 in our 4K benchmarks; not bad, but not great either. We'd expect similar, if not slightly higher, scores from the Core m-5Y70 model. It handles everyday tasks such as web browsing, word processing and basic image manipulation without a hitch, but with a multitasking score of just six, it will struggle with running multiple intensive applications. Its integrated Intel HD Graphics 515 chip simply couldn't cope with our usual games tests either.
However, the MateBook*s biggest flaw is its battery life. Lasting just six hours in our continuous video playback test with the screen brightness set to 170cd/m2, the MateBook's longevity pales in comparison to the Surface Pro 4 and both iPad Pro models.
That's a shame, as the MateBook's 12in, 2,160×1/440 IPS display looks stunning. Covering 98.4% of the sRGB color gamut, colors appear wonderfully rich and vibrant, and its peak brightness level of 346cd/m2 is high enough for comfortable outdoor use. Its contrast ratio of 843:1 is a little low, but this only becomes an issue when looking for little details in very dark images.
The MateBook's attractions start to fall away as soon as you start using its keyboard attachment. Its worst problem is the integrated stand; its default angle is too steep, and the second angle – which you can set by shifting the flap magnets up a centimetre or two on the rear, tilting the tablet back a few degrees – is so unstable that simply tapping the touchscreen can send it tumbling backwards.
The large touchpad is fine, but the keyboard itself isn't terribly good either; the keys provide a good level of feedback but are too crammed together for fast typing, and the impact of your fingers can cause the keyboard to bounce distractingly.
The Huawei MateBook does several things right, but in the end, you'll be wishing you'd paid a little bit more for the extra convenience afforded by the Surface Pro 4.
LENOVO Ideapad Miix 700
Rating 4/5
A near perfect hybrid, the Lenovo Ideapad Miix 700 falls just shy of being the best
WHEREAS THE THINKPAD XI Tablet focuses more on productivity and flexibility, the Ideapad Miix 700 offers a taste of Lenovo's hybrid device expertise in a prettier package – right down to the signature 'watchband hinge' on the kickstand.
At 780g and 292x219x8.95mm without the keyboard attached, the Miix 700 is not too heavy to lug around. The specification is promising, too: you get an Intel Core m7-6Y75 processor, 8GB of RAM and 256GB of SSD storage, plus a keyboard and stylus in the box The keyboard gets the Miix 700 off to a bit of a wobbly start. It's not awful, but a little bounciness and shallow key travel means it's less impressive than the Lenovo ThinkPad X1 Tablet's solid, high-quality keyboard attachment. At least the aforementioned watchband hinge, lifted from Lenovo's Yoga laptop series, provides the kickstand with a smooth, stable range of adjustment The Miix 700's display is one of its strongest suits. The 12in, 2,160×1,440 resolution screen reaches a high peak brightness of 400cd/m2, a respectable 1,036:1 contrast ratio and sRGB color gamut coverage of 89%. That means it struggles to reproduce only the most intense shades of color, something few 2-in-1s outside of the Surface Pro 4 and iPad Pro series can do.
Powered by the relatively potent Intel Core m7-6Y75 processor, the Miix 700 reached an overall score of 38 in our benchmark tests. It's lightning fast in general web browsing and word processing, and only starts to struggle when you present it with sustained, intensive workloads such as video editing. Don't expect to do much gaming on it, though – it scraped just over 30fps in Dirt Showdown at 1,280×720 resolution, and that was with the graphics settings dialled right down to Ultra Low.
Sadly, despite the low-voltage processor and fanless design, the Miix 700 expired after 6h 40m in our continuous video playback test. That's an hour less than the Surface Pro 4, and you'll struggle to keep it going for a full day without reaching for the charging cable.
There's no USB Type-C port, as there is on the ThinkPad X1 Tablet, but you get a second full-size USB connector. In total, the Miix 700 offers one USB3, one USB2 port, microSD and Micro SIM slots and 3.5mm headset jack.
The Lenovo Ideapad Miix 700 ticks lots of boxes. It's lightweight, portable and pretty nippy compared with its similarly priced rivals.
It lacks the all-round refinement of the current hybrid leader, Microsoft's Surface Pro 4, but it's still a solid all-rounder.
It's the price that swings it, though. Taking into account the Core m7 processor, the bundled keyboard and stylus add-ons, the Ideapad Miix 700 is a better deal than most of its rivals, including Lenovo's own ThinkPad XI Tablet. Indeed, if you were tempted by the charms of pricier hybrids, but can't quite justify the outlay, the Miix 700 could prove to be the perfect alternative.